Sponsored Links
Hiraoka Coffee's 100-year-old coffee and donuts in Honmachi, an office district in Osaka. I really like this combination, so I would like to introduce it.
About Hiraoka Coffee
Hiraoka Coffee was founded in 1921 and is the oldest and most valuable coffee shop in Osaka where you can enjoy the taste of Osaka at that time. It is a long-established store that celebrated its 100th anniversary (1st century!) In 2021.
Coffee is a strong coffee that is typical of Osaka and is made from deep roasted coffee that is roasted in-house by a rare extraction method called the "boiling method." And delicious handmade donuts that look like the ultimate in simplicity are popular products.
Location and appearance
The place is in the area where office buildings are lined up about 3 minutes north of Hommachi station, and I go on weekdays around 15:00 or Saturday, but a businessman in a suit and one person including me I had the impression that there were many women who came to Japan.
The exterior looks like this, with a yellow eaves tent and a large banner with the letter "flat" on it.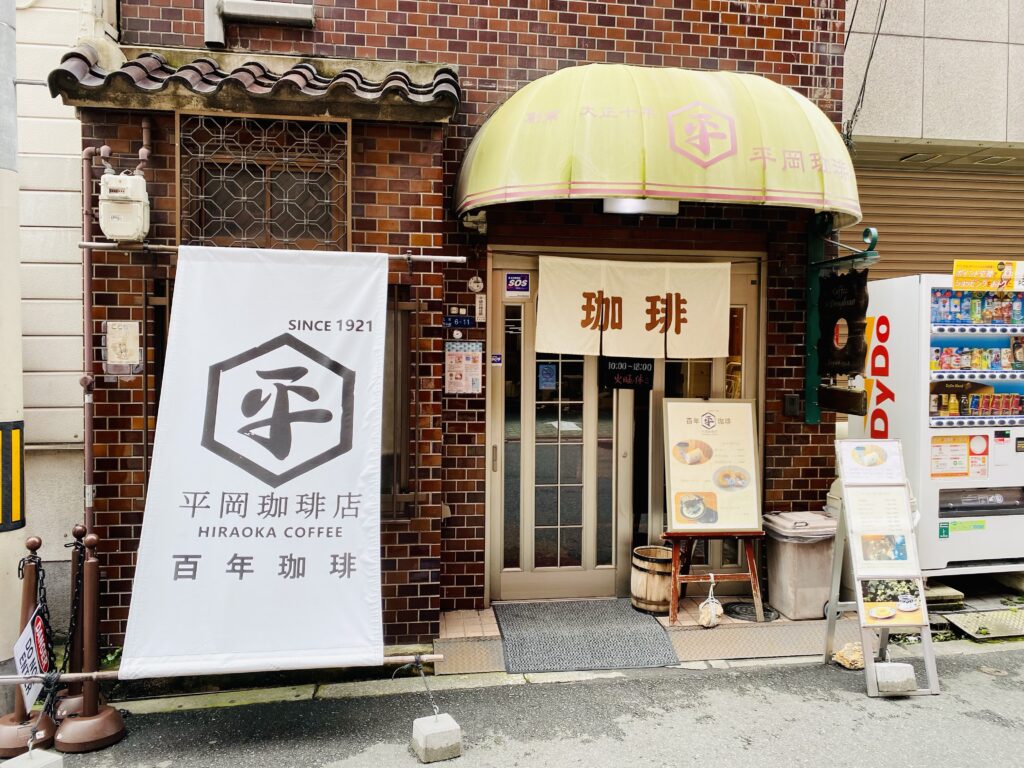 Menu and price range
There are four types of coffee, blended coffee (hundred-year coffee, fragrance blend, bitterness blend) and cold coffee, but I always order strong, low-sour (I think) 100-year coffee.
The price is 480 yen for blended coffee, 550 yen for cold coffee, and 600 yen for a set of blended coffee and donuts.
A single donut is 200 yen, so it's a good idea to order a set d ('v` ○)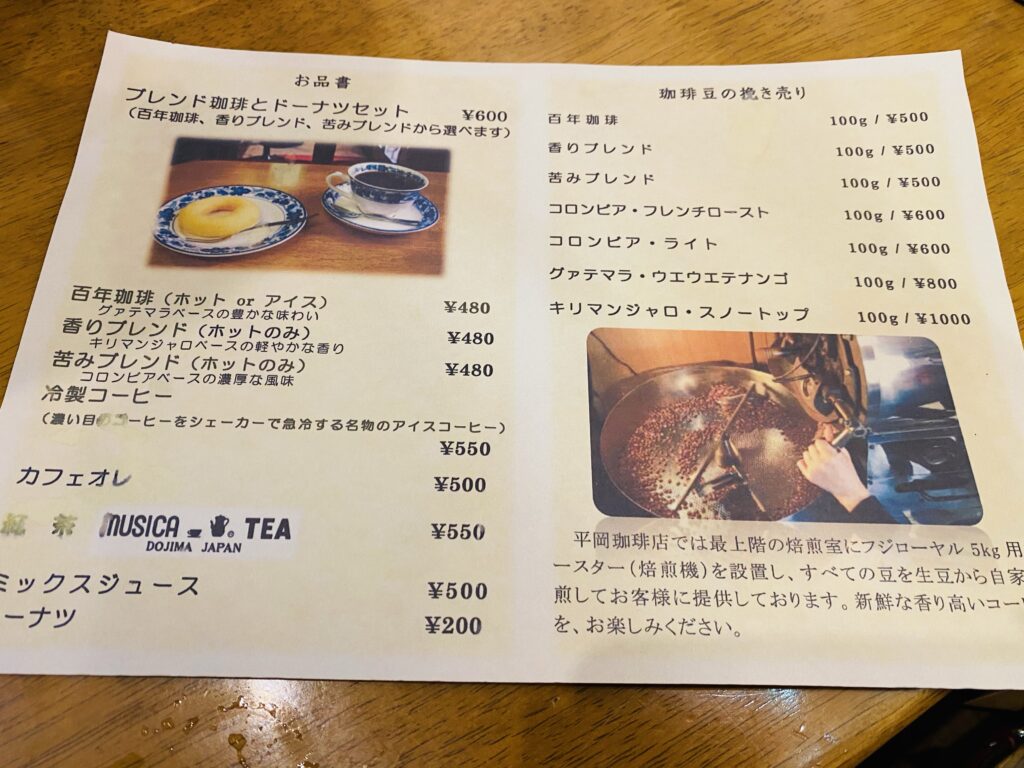 Hundred years coffee and handmade donuts
Then, I will have 100 years coffee and donuts.
Hundred years coffee seems to be thick from the appearance. And it is strong even if you drink it without betraying its appearance.
When you take a sip, the bitterness of coffee burns! It spreads in my mouth, and then I thought that the fragrant scent of coffee went through my nose, and finally the sweetness went away from the back, and there was a punch. But the aftertaste is mild and clean coffee.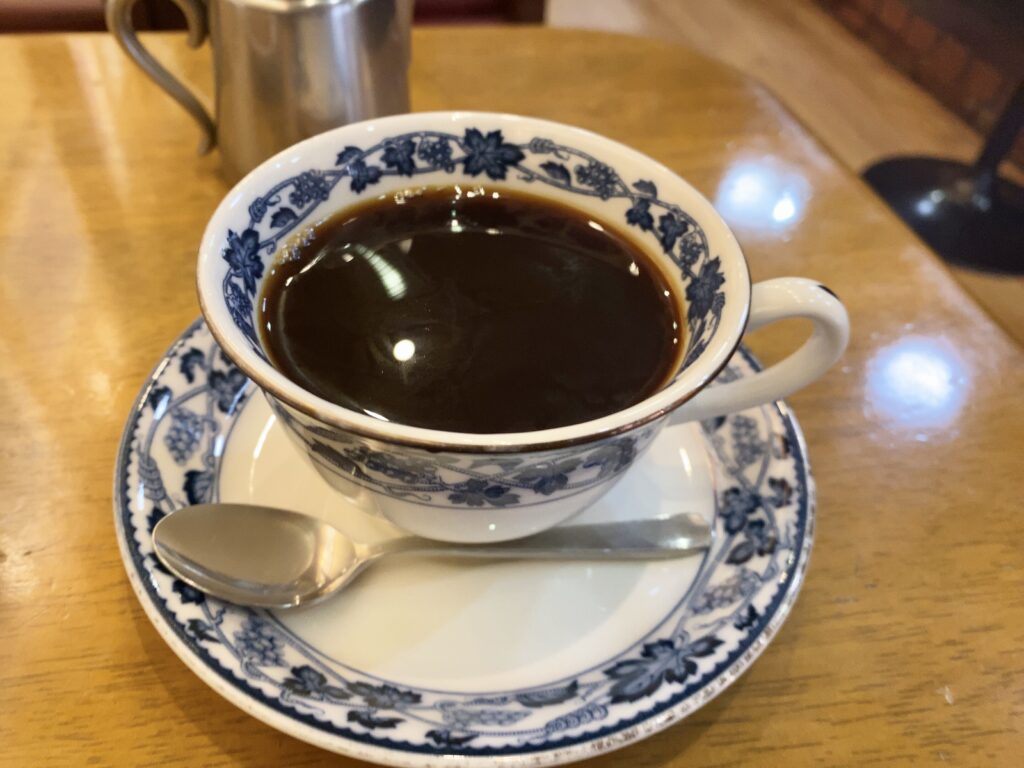 And this is a donut.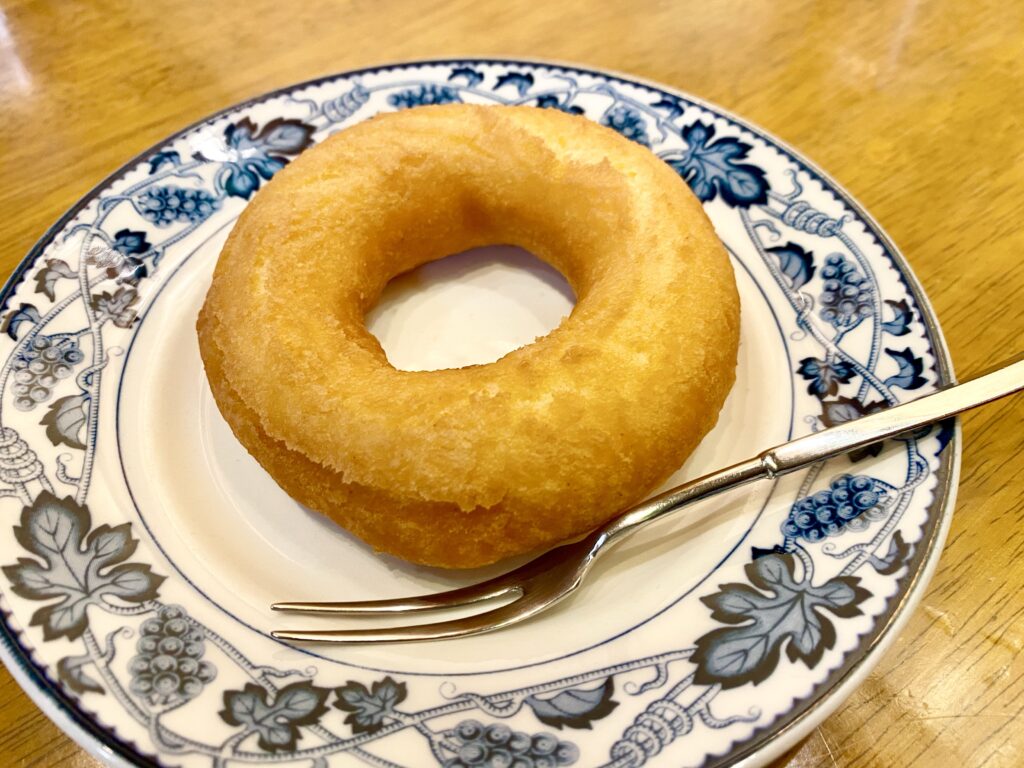 It's a simple donut made only from domestic wheat, eggs, and sugar, but it's really tasty and delicious.
Crispy! When you chew the fried wheat, you can't say anything about the sweetness and depth! It spreads quickly and becomes a gentle paradise.
Drinking coffee after eating this donut (or with a little donut in your mouth) adds the bitterness, richness, and aroma of the coffee to the mellowness and sweetness of the donut, a different dimension than eating it alone. I was surprised to see the change in the taste of coffee!
I really like this best matching combination.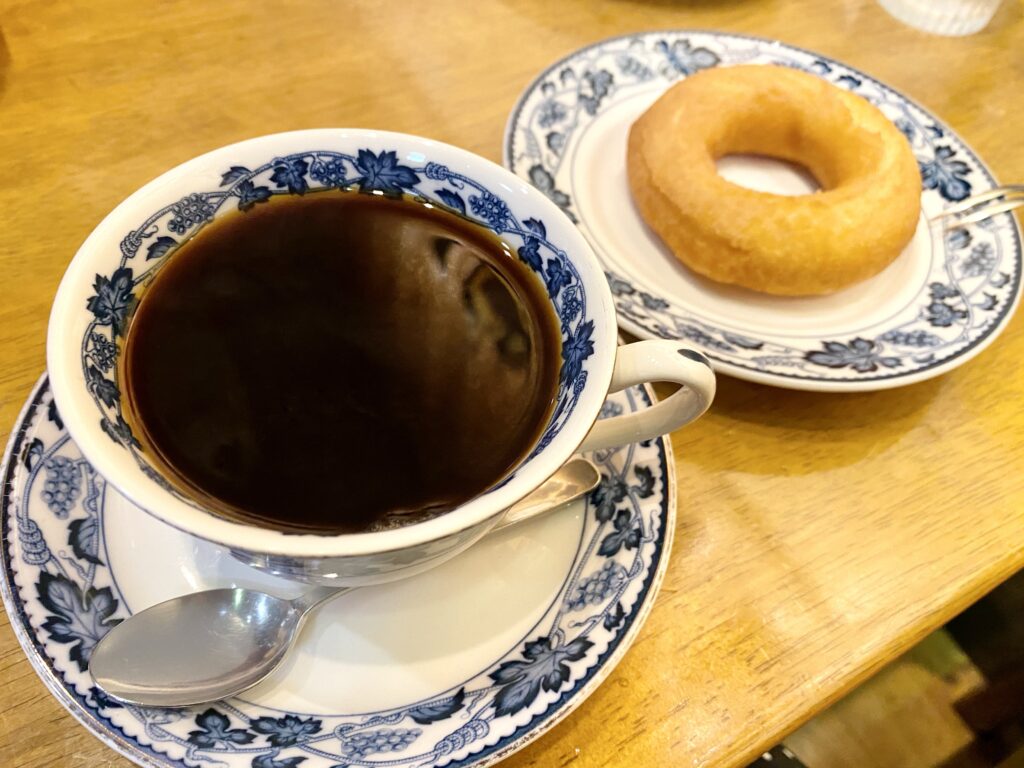 I really recommend the combination of coffee and donuts from a nostalgic coffee shop that is the same as when it was founded, so I would like you to try it once when you come to Honmachi, but it is quite difficult at this time. ..
However, looking at the website, it seems that they have just recently started selling online!
However, the price is different from the price at the store, and since coffee is a drip pack, the taste may be slightly different from coffee made by the boiling method, but how will it change (or will not change) if the same beans are made differently? I think you can also enjoy it. If you want to try it at home, please click here ⇒ https://hiraokacoffe.thebase.in/(JPN)
【Hiraoka Coffee】
Address: 3-6-11 Kawaramachi, Chuo-ku, Osaka-shi, Osaka
Business hours: 10: 00-18: 00
Phone number: 090-6244-3708
Regular holiday: Tuesday
Average budget: 600 yen
Payment: Cash, Paypay
HP:https://www.cafe-hiraoka.jp/(JPN)